Our home inspections are performed with great care and attention to detail.
If you're planning on buying or selling a home, then hiring a home inspector could save you thousands of dollars.
Commercial buildings need inspections just like any other type of property, so call us today to set up yours.
11th Month Warranty Inspection
Just because your home is new, doesn't mean it is defect-free. At your 11-month mark, this may be your last chance to take advantage of your warranty!
Are your sinks and tubs emptying too slowly? We use a special camera to scope the sewer line to visualize any blockages that are interfering with the plumbing system's proper drainage.
Drone technology has revolutionized the way we inspect roofs. It's much faster, safer, and more thorough than traditional methods, and it allows us to see areas that were previously inaccessible. We always walk rooftops when it is safe to do so
Thermal imagery provides an immediate look at the condition of the home, without having to tear anything apart to see inside of walls.
What is a Sewer Scope Inspection?
If you're thinking about buying a home, you have a lot to think about – from putting in offers, to hiring home inspectors, negotiating the sale of your old home – we get it. There's a lot on your plate.
But that doesn't mean you should overlook one of the most commonly-ignored – yet most important – parts of inspecting a home that you're interested in purchasing. A sewer scope inspection.
Sewer scope inspections are typically not included in a standard home inspection, but are just as important. Why? Let's discuss the basics about sewer scope inspections and why they're important now.
The Sewer Scope Inspection Process
Having a sewer scope inspection performed usually only takes a few minutes – and the inspection is just what it sounds like. A trained, professional inspector will run a specialized, flexible borescope camera, which feeds images and video to a monitor. Then, this camera is run through your home's drainpipe, to examine the sewer lines and other underground pipes for any flaws, imperfections, or serious problems.
The entire process usually takes no more than an hour, altogether. After this, your inspector will tell you about their findings, and issue a report and video that's given to you with information about the condition of the sewer line.
Sewer Scope Inspection Cost
The cost of a sewer scope inspection will vary based on the area in which it's performed, the specifics of the house, the inspector you use, and a number of other variables. However, it's quite affordable, in most cases. The cost will $150 with inspection or $250 without inspection.
This may seem steep. However, consider this – the cost of repairing a broken sewer line costs around $250-$300 – per foot of repaired line. Repairing and replacing an entire sewer line or a line with major structural faults could easily run you thousands of dollars.
Should I Get A Sewer Scope Inspection?
Absolutely. As touched upon above, a sewer line is often one of the costliest things to repair in a home. Getting a sewer scope inspection can help you avoid investing in a home that has serious issues with the sewer/septic system.
You may even be able to save a bit of money on a sewer scope inspection if you're able to find a home inspector who offers this service along with other traditional home inspection services, such as lead and asbestos inspections. Bundling these services usually will allow you to get a better deal.
Signs You Should Get A Sewer Scope Inspection for Home Purchase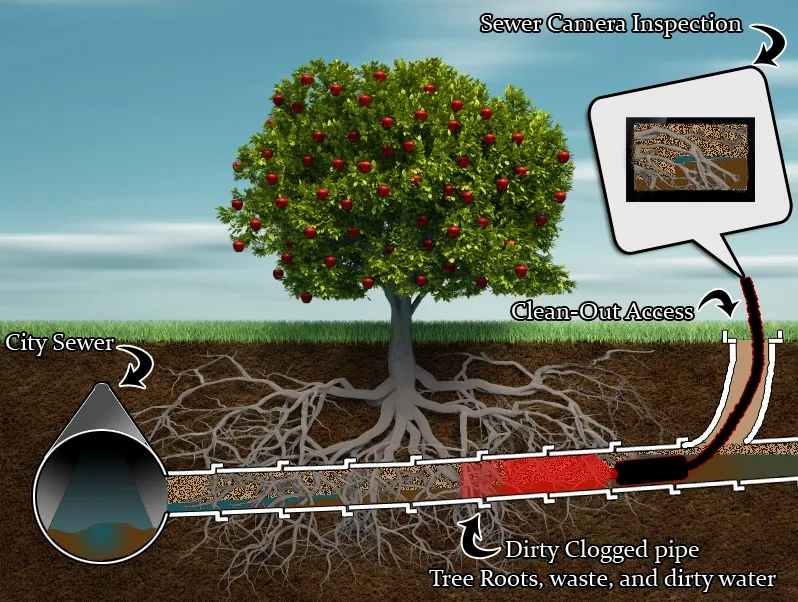 Before you go looking for a home, it's a good idea to know what to look for, and what signs may indicate that you must get a sewer scope inspection before making an offer on a house. Here is a short list of some of the most common signs that something may be wrong with the sewer system, or that it's at risk of being damaged.
Water backing up inside the house or crawlspace – This could indicate damage or breakage to the sewer line, or a significant clog.
Large trees in the yard – One of the most common causes of sewer pipe damage is the growth of roots around the pipe. Roots can grow around and constrict the pipe, breaking it, or grow into small cracks in the pipe, clogging it or causing leaks.
The house was built more than 25 years ago – Homes built before 1984 may have clay sewer pipes, which can be easily crushed or damaged. These typically must be replaced, or at least inspected to ensure that they are in good condition.
You notice shifting or movement of the ground around the home – If the soil around a house seems to have shifted, the pipe may have been affected. If it has moved, it could have broken or become bent and damaged, which may require a costly repair. |

To identify this, look at things like the sidewalk and driveway. Are the surface soils level with the driveway or walkway? Do they seem to have sunk, or become piled higher than these concrete surfaces?
Extra-green or lush patches of grass – This is a common sign of a septic or sewer leak. Given its contents, sewer water is actually a powerful fertilizer that can help encourage plant growth. If you see a suspiciously healthy-looking area of the yard, especially if the rest of the lawn seems to be less lush or green, you should be suspicious.
Even if you don't see any of these above issues, we would still recommend a sewer scope inspection. More minor issues with the sewer line may have few or no symptoms at all – but still cost thousands to repair.
Sewer Scope Inspection Results – What to Look For
Wondering what to look for during the inspection? You'll typically watch the video feed throughout the process. You and your inspector will be looking for:
Serious clogs or blockages in the sewer line
Cracks, damage or imperfections in the line
The type of material used for the line (clay, concrete, plastic, metal, etc)
Roots growing through the line
Separation or failure of the line
Your inspector will walk you through the entire process, and help you understand what you're seeing. If no issues are detected, great! If there are some minor problems, you may be able to negotiate a better rate on the home, or at least plan for the repair in your home budget during the next few years. Finally, if there is a major issue, you likely will be able to walk away from the sale, require the homeowner to make the repair themselves, or get them to reduce the cost of the property accordingly.
A report with video will be sent for your records within 24 hours.